FREE Shipping
Delivery: 2-7 Days
Questions?
Contact an TSG Expert: 1-866-485-3223
Share
Get on with conquering those rigorous trails, rails, and parks, with the reliable, impact protection from TSG Seek Helmet. Lightweight, strong, and comfortable design makes Seek the helmet of choice for BMX, snowsports or skating. 
TSG Seek uses special hardshell construction to connect shock-absorbing EPS liners to ABS hard shells, creating super-strong helmets with extreme stability. TSG uses a less intrusive design that does not interfere with the athlete's movements.
The removable visor offers sun protection without limiting visibility or mobility. The visor can be easily replaced with a new one with this flexible design. TSG Bike helmets have ample airflow channels to prevent heat build-up by circulating fresh air for riding comfort.
A good fit is extremely important for comfortable biking. Bikers can easily adjust the fit using a wheel on the back of the helmet. It is particularly important that bikers and optimize the fit so that they can ride in comfort with better riding focus. The removable comfort pads dry quickly after cleaning by hand or machine wash.
Worry stops with Seek helmets, with the guaranteed quality that is regulated by international safety standards such as CE EN 1078 (European standard for bike and skateboarding helmets) and CPSC (US-American standard for bike helmets). Designed in Switzerland, all TSG products are tested by an internal team of passionate riders.
Seek helmet comes in three sizes:
XXS/XS: 52-56 cm
S/M: 54-58 cm
L/XL: 58-62 cm
Specs:
Uses: Trail, All Mountain
Certifications: NF EN 1078+A1:02 2013, CPSC
Weight: 380 gm
Material: ABS, PC, EPS, POLYESTER, NYLON
Head circumference: XXS/XS: 52-56 cm, S/M: 54-58 cm, L/XL: 58-62 cm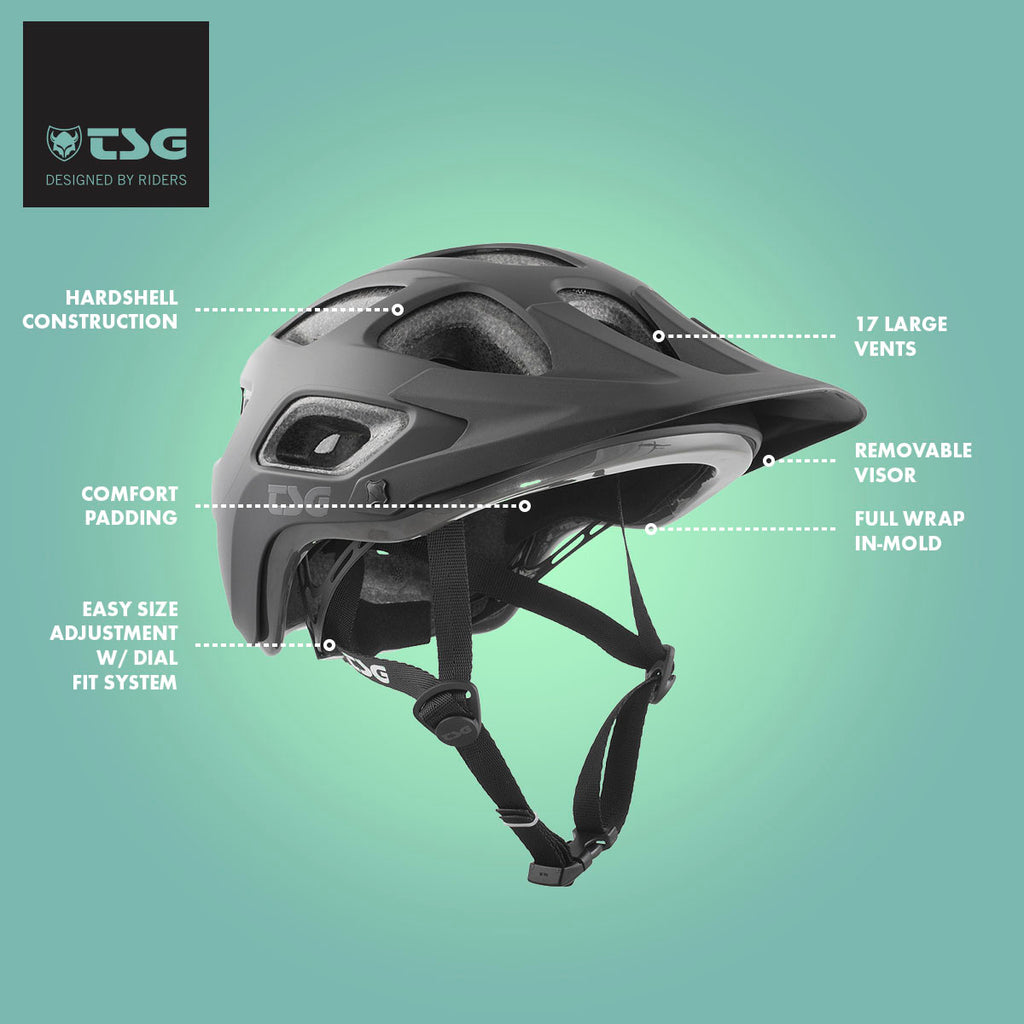 Returns & Warranty Policy

14-Day like new return policy on all products.

Shipping

Free Shipping on all orders in the USA. 
All orders ship by courier (Fedex, UPS, USPS etc.)
Shipping 2-7 Days