FREE Shipping
Delivery: 2-7 Days
Questions?
Contact an TSG Expert: 1-866-485-3223
Share
The Scope is TSG's flagship mountain bike enduro helmet featuring superior head coverage, enhanced adjustability and a brand new look and construction. In addition to TSG's outstanding protection the lower fitting profile delivers better coverage for a riders temples, while 3-point height adjustability makes the fit of the helmet super customizable and therefore secure and comfortable. Additional features of the ultra-modern design include a channel for the secure fit of strap-on headlamps and POV cameras; a dynamic venting system integrated into the design of the shell and an visor with space to hold goggles securely when not worn.
FEATURES:
- In-Mold Construction: A technique that connects the shock absorbing EPS liner directly to the polycarbonate shell to create a lightweight and strong structure.
- Tuned Fit System: Allows a rider to dial in their fit using different thickness pads on the interior of the helmet
- Snug Fit System: Allows the head to touch the helmet all around, wobble-free, for a secure and snug fit
- Low Fit: Protects the entire back & sides of your head without impairing field of vision or restricting movement.
- 14 Vents w/ Air Flow Channels: Provides cooling air and exhausts warm air to help reduce discomfort from sweating
- Comfort Padding (in two sizes): Premium heat-sealed padding that is pre-formed and quick-drying. Removable and machine/hand washable.
SPECIFICATIONS:
Certification: NF EN 1078+A1:02 2013, CPSC
Material: Polycarbonate, EPS, Polyester, Nylon
Weight: 300 g / 0.66 lb
SIZING:
Head Circumference
S/M (54-56cm / 21.2-22in), L/XL (57-59cm / 22.4-23.2in), XXL (59-61cm / 23.2-24in)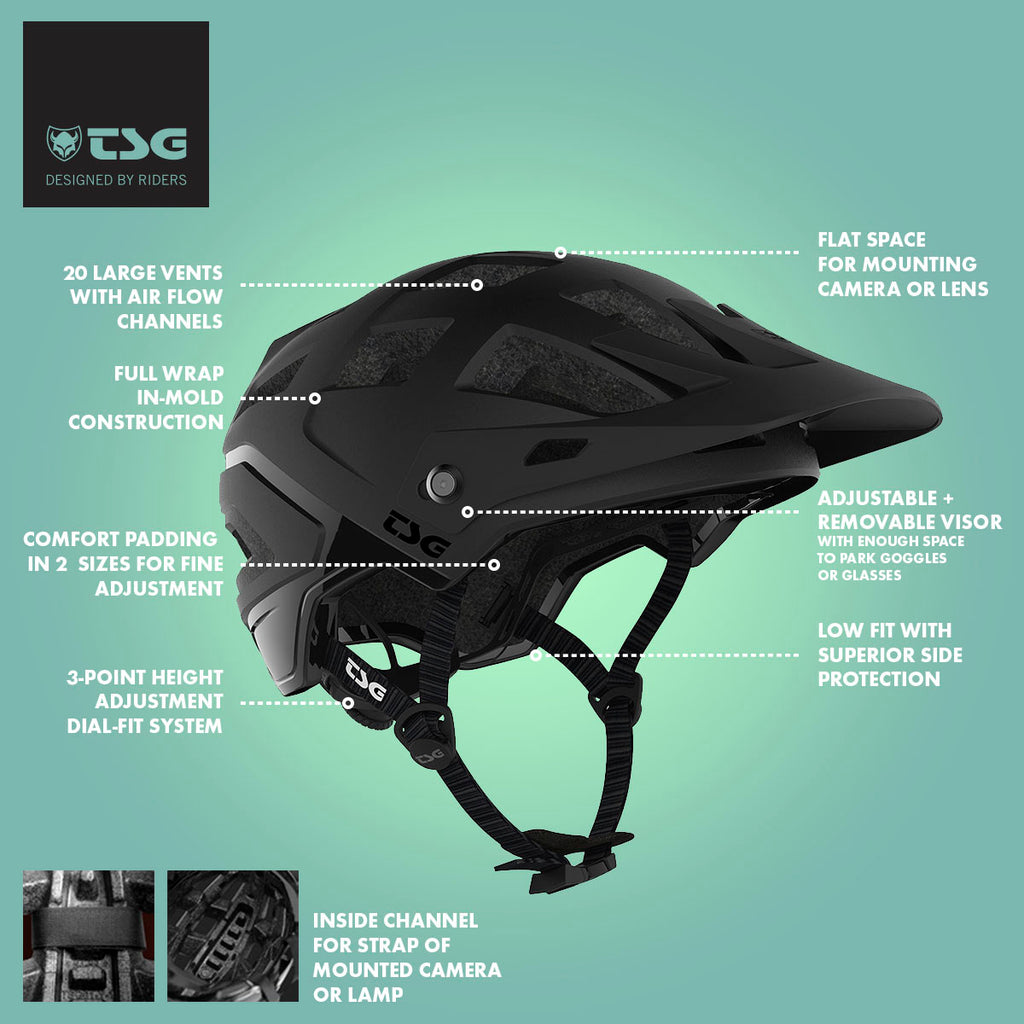 Returns & Warranty Policy

14-Day like new return policy on all products.

Shipping

Free Shipping on all orders in the USA. 
All orders ship by courier (Fedex, UPS, USPS etc.)
Shipping 2-7 Days