FREE Shipping
Delivery: 2-7 Days
Questions?
Contact an TSG Expert: 1-866-485-3223
Share
TSG knee sleeve joints are perfect for professionals as well as amateurs alike. Skaters and mountain bikers can focus on their performance without worrying about the cuts and scrapes from falls and hits.
TSG's softshell construction gives reliable protection from abrasions, crashes, and falls. Cushiony protection from polyurethane foam padding dampens impact forces before reaching the body. Flexible spandex construction keeps the design subtle and low-key, without intruding into the athlete's movements.
The foam-padded side walls offer wider coverage and protection around the knees. The PU foam follows the body's natural shape to align comfortably and stay low without interfering with the player's movements. Anti-slip silicone prints on the top cuff keep the sleeve in place without slipping or shifting down during actions.
Versatile back with an elastic and breathable mesh and cut-out design provides ample ventilation for a cooling effect. The slip-on sleeve is easy to put on and tighten using straps for an anti-shift fit.
TSG helmets offer incredible quality surpassing international safety standards such as BIKE PROTOCOL PPETS0002 BASED ON EN 1621-1:2012 - European standard for motorcyclist protective clothing, harmonized for mountain biking. Designed in Switzerland, TSG products are tested by a passionate internal team of riders and certified by independent lab testing.
Available in sizes: XXS/XS, S/M, L/XL, XXL.
Specs:
Uses: Trail, All-Mountain
Certifications: BIKE PROTOCOL PPETS0002 (TEST METHOD PARTIALLY BASED ON EN 1621-1:2012 AND OTHERS)
Weight: 520 gm
Material: 60% PU, 18% POLYESTER, 7% NYLON, 5% TPU, 7% SILICON, 3% RUBBER
Sizes:
XXS/XS: Thigh: 30-36 cm, Calf: 28-32 cm
S/M: Thigh: 36-42 cm, Calf: 32-36 cm
L/XL: Thigh: 42-48 cm, Calf: 36-40 cm
XXL: Thigh: 48-52 cm, Calf: 40-42 cm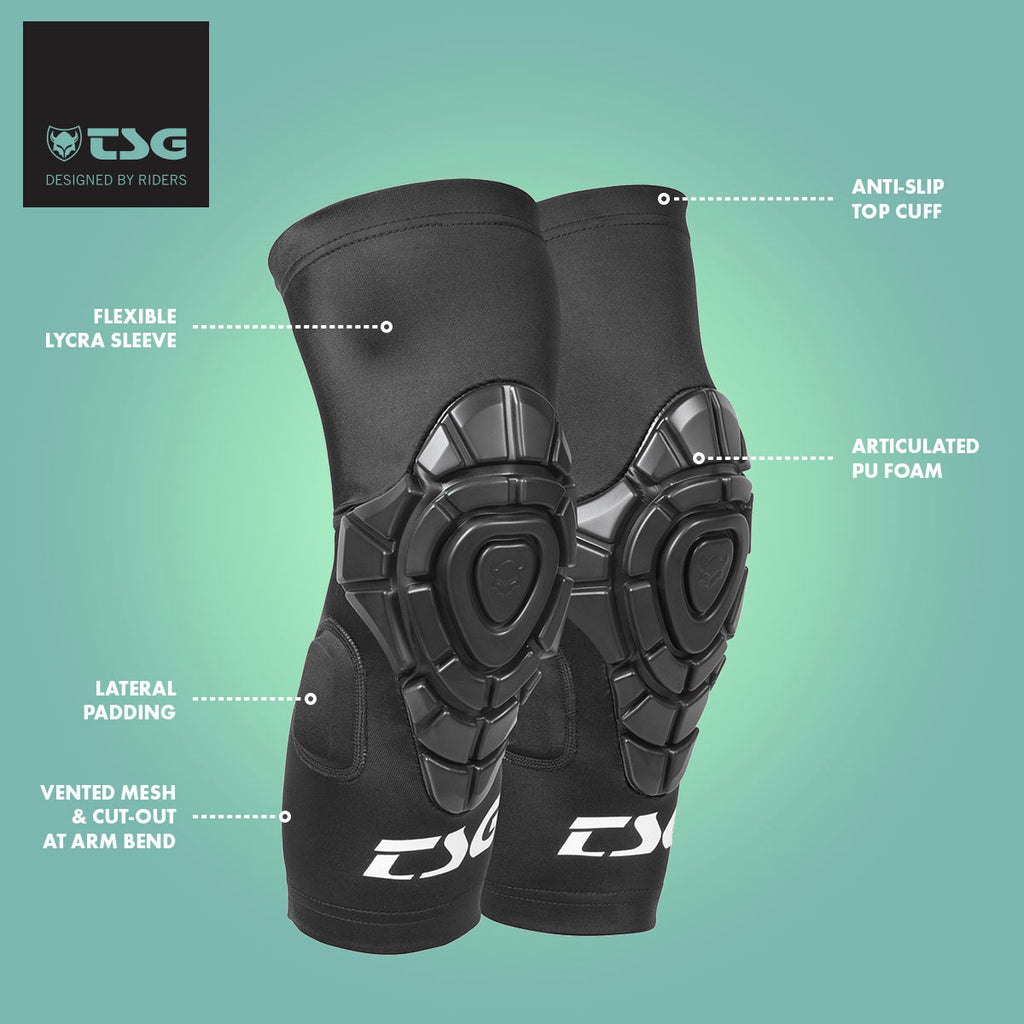 Returns & Warranty Policy

14-Day like new return policy on all products.

Shipping

Free Shipping on all orders in the USA. 
All orders ship by courier (Fedex, UPS, USPS etc.)
Shipping 2-7 Days