FREE Shipping
Delivery: 2-7 Days
Questions?
Contact an TSG Expert: 1-866-485-3223
Share
TSG Ace elbow pads are perfect for professionals as well as amateurs alike. Skaters can focus on their performance without worrying about the cuts and scrapes on the rink.
TSG's hardshell construction uses hard shells for protection from abrasions, crashes, and falls. Cushiony protection from multiple layers of soft EVA foam padding dampens impact forces before reaching the body. Tear-resistant nylon construction with sewn-in hard shell PE cap will stand up to the rigors of skateboarding rinks.
TSG's unique horseshoe design provides wider coverage and protection around the elbow joints. The pre-shaped design follows the body's natural shape to align comfortably and stay low without interfering with the player's movements. This contoured design keeps the pad in place without slipping or shifting down during actions.
Elbow caps have high-end 360° straps that wrap around the whole joint for a secure and comfortable fit. Flexible, stretchy neoprene arm bends support unparalleled freedom of movement. The ultra-light design allows players to easily pack and fit them into their travel gear.
TSG protective elbow pads offer incredible quality surpassing international safety standards such as EN 14120:2003+A1:2007 Level 1. Designed in Switzerland, TSG products are tested by a passionate internal team of riders and certified by independent lab testing.
Available in sizes: XS, S, M, and L.
Specs:
Uses: Vert, Park, Downhill
Certifications: EN 14120:2003+A1:2007, LEVEL 1
Weight: 226 gm
Material: 30% EVA, 25% POLYESTER, 20% POLYETHYLENE, 15% NEOPRENE, 7% NYLON, 3% RUBBER
Sizes:
XS: Bicep: 23-26 cm, Forearm: 22-24 cm
S: Bicep: 26-29 cm, Forearm: ,25-27 cm
M: Bicep: 29-32 cm, Forearm: 27-28 cm
L: Bicep: 32-35 cm, Forearm: 28-29 cm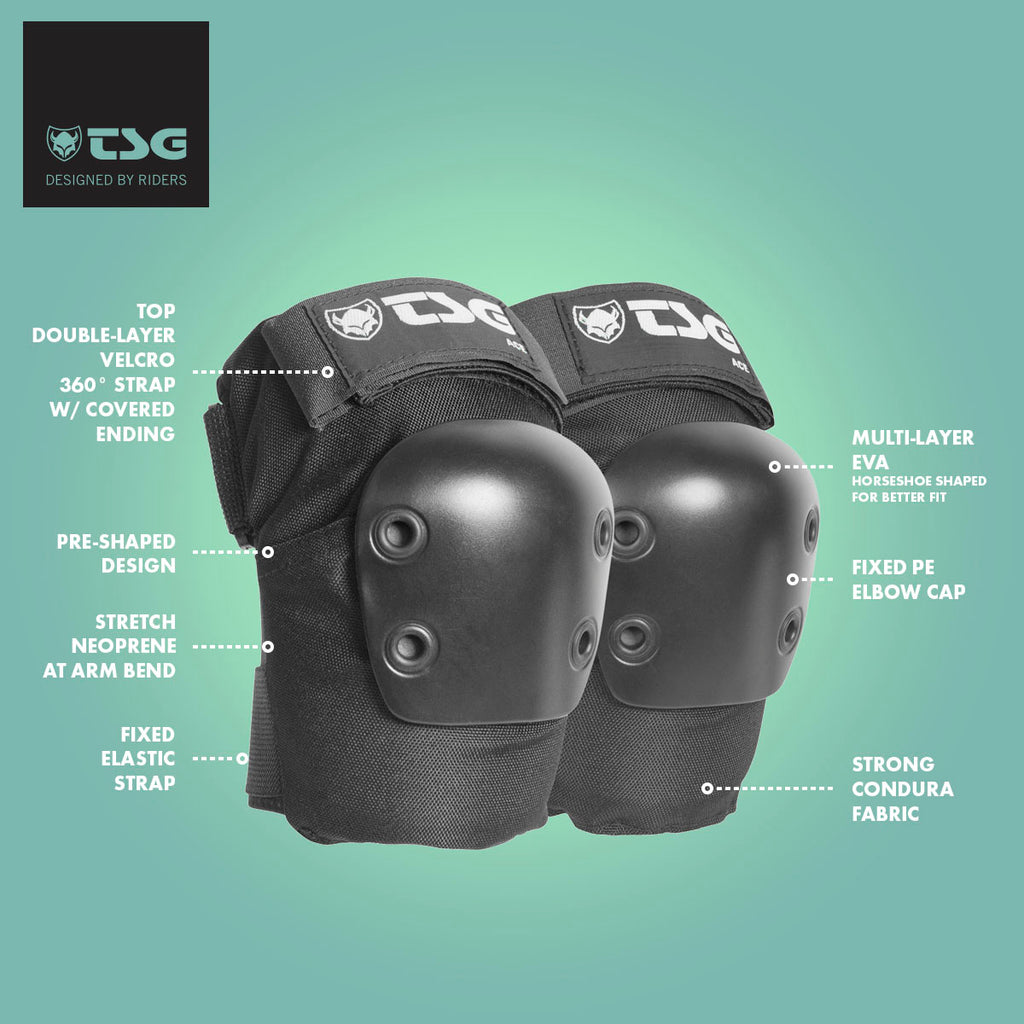 Returns & Warranty Policy

14-Day like new return policy on all products.

Shipping

Free Shipping on all orders in the USA. 
All orders ship by courier (Fedex, UPS, USPS etc.)
Shipping 2-7 Days